NDSU students are working on many fascinating projects! In 2022, we had 34 students working on 14 different social challenges. We challenged them to dig deep into the issue, explore the system holding it in place, the other actors working to solve the challenge, and consider who might be collaborators rather than competitors.
Problems to possibilities
From Problems to Possibilities is an initiative designed to change the conversation in social impact education — moving from an overemphasis on the 'heropreneur' and new 'solutions' — toward a focus on deep understanding of complex problems as the foundation for driving transformational change. Unlike business plan or pitch competitions, where participants are rewarded for their solution ideas, this program promotes students developing an in-depth understanding of a challenge, their understanding of what solution efforts are already being tried, and their identification of gaps or opportunities for increased impact. The competition challenges participants to use systems-thinking as a guiding approach to understanding some of the most complex issues the world faces today. This program works with the Skoll Center for Entrepreneurship at the University of Oxford and uses their Map the System programming and materials.
2022 Problems to Possibilities Entries
1st Place
Water Access on the Navajo Nation
First place winners of the 2022 Problems to Possibilities competition were students from North Dakota State University:
Abbie Brekke
Teegan Nordstrom
Taylor Billey
Leonela Nelson
Finalist
Sex Trafficking in North Dakota: Out of Sight, Out of Mind?
This research assesses the issues associated with sex trafficking in North Dakota. Many factors have contributed to the rise in sex trafficking in the state such as the oil boom in Williston and ease of access to social media making young people more vulnerable to being solicited by traffickers. Education, awareness, and collaboration with key stakeholders such as medical providers, advocacy groups, and schools are important to combat the problem.
Finalist
Worsening Water Crisis in Burkina Faso
This project sought to explore why, despite actions being taken to solve the problem, the water crisis in Burkina Faso is worsening.The research was compiled through in-depth interviews with those who have first-hand experience with the issue, articles by non-governmental organizations and nonprofits directly working to tackle this issue, and a variety of world databases analyzing the water crisis and financial situation in Burkina Faso.
finalist
Broken System Broken Hearts: How SystemicRacism through Racial Covenants and Redliningin Minneapolis Impacts Cardiovascular Health
Where one lives is a determinant of health, and where one lives is often influenced by systemic forces beyond their control. This team uses systems thinking approach to examine how the availability of resources and historical policies lead to stark differences in cardiovascular health outcomes, perpetuating a vicious positive feedback loop.
finalist
Life on the Prairie: Evaluating the Viability of rural Communities in North Dakota
Rural communities reside in a liminal space between the urbanized and non-existent. Understanding how Political, Social, Economic, and Geographical factors correlate to provide a sustainable framework of viability in a rural community is key to identifying future growth opportunities in a modernizing world.
Good for You – Good for the Earth
Climate change and the global pandemic has put more pressure and have highlighted the need for resiliency in global food systems. This research project examines the systems around the questions about how to accelerate protein diversification, sustainable protein production system, and consumer behavior change to achieve a more just food system
Breaking the Poverty Cycle of Agriculture in Ethiopia
Seeking to uncover factors behind the small farm cycle of poverty in Ethiopia, this project examines all the systems that surround the issue. Key insights include the discovery of specific levers for change including building synergistic outcomes through symbiotic activity from the technology industry.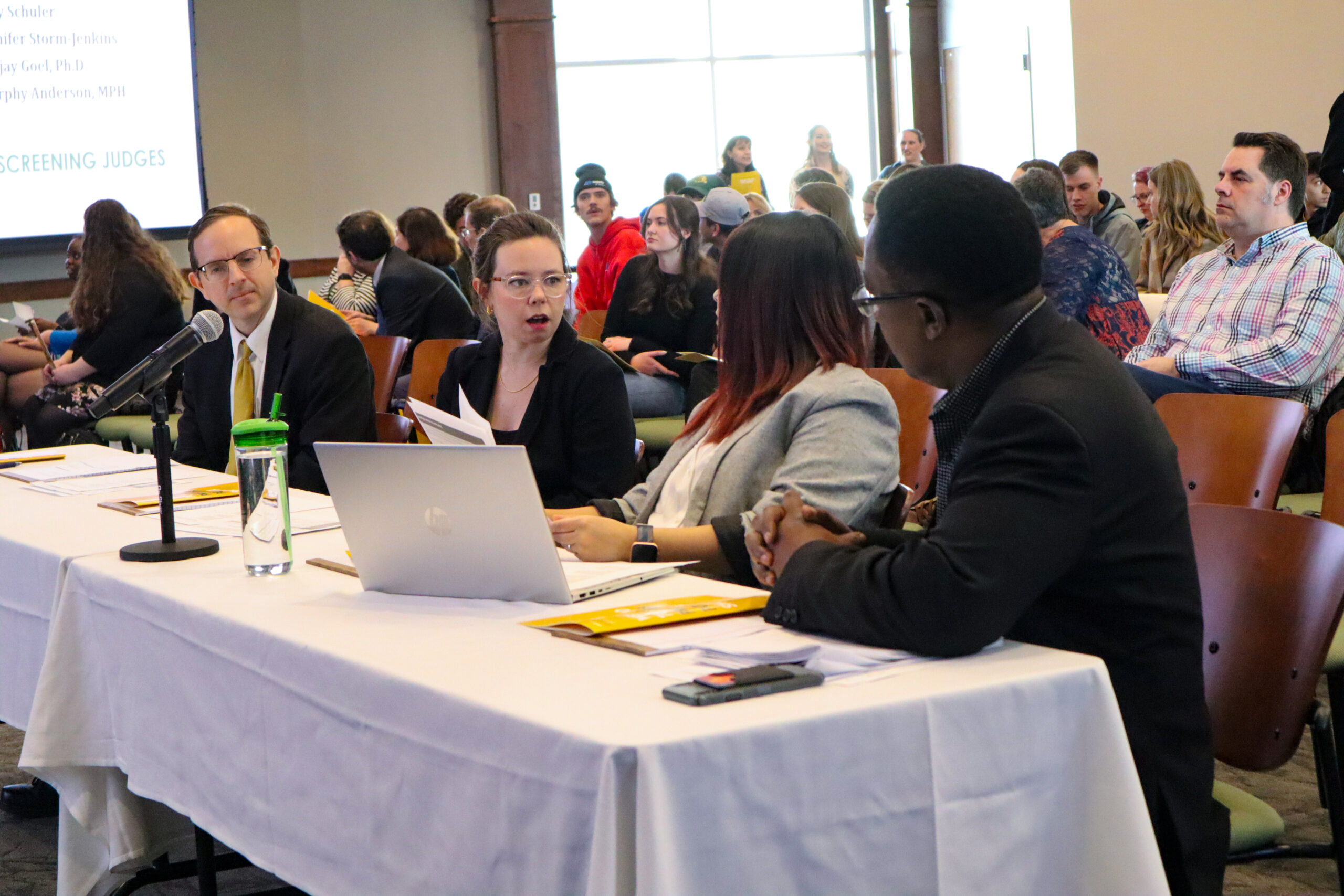 Coming Out, Losing Out, Moving Out: The Exodus of the LGBTQ+ Community from Rural Americ
This team explored whether rural communities are providing affirming healthcare for queer populations. They conducted a survey, with results indicating that rural communities may not have the resources, education, or training necessary to provide affirming healthcare to the queer population. Due to the lack of resources available, queer individuals are relocating to communities that have resources and affirming healthcare options available.
Vaping in America's Youth: The Nicotine Epidemic
A problem that has increasing severity in America's youth is the increase in tobacco use through vaping products. According to the CDC, "about 1 of every 9 high school students (11.3%) reported that they had used electronic cigarettes in the past 30 days" (Centers). These increasing numbers have caused major concern to develop for the health and well-being of America's youth.
Differential Impacts of Disasters based on Economic Resources
The impacts of disasters vary mostly due to the economic status of the household. Economic resources and interaction to different power dynamics ensures better capability to cope with the disasters, faster recovery, and lower vulnerability. Constraints to these resources and power lead to slower recovery and higher vulnerability